Arcellor Controls is a Dominant and Expert manufacturer of high quality ASME/ANSI/DIN standard Stainless Steel plate flanges in India. We offer immediate delivery programs for standard size of carbon steel plate flanges and stainless steel plate flanges. Plate flanges can be manufactured as per custom size requirements of our customers.We are also known as plate flange supplier with high quality raw material in various sizes.
Stainless steel plate flanges are manufactured from plated produced in accordance to the ASTM A240 and ASME SA240 standards. Plate flanges are widely accepted as an alternative to cast or forged flanges in low pressure applications because of the benefits listed below.
Advantages of Plate Flanges
Free of any defects
Superior grain structure compared to forged or cast products
Extended service life
Reduction of the normal maintenance costs
Plate flanges are most widely used in fuel and water pipelines, where two flange plates are bolted together with a gasket in between them. The flange plate will have bolt holes all around the perimeter and will be used to create junctions, tees and joints.
Our products are widely exported to countries and regions such as the United States, Europe, Russia, Turkey, Malaysia, the UAE, Iran, Brazil, Chile, Mexico, South Africa, Jordan, Tunisia, Vietnam, Indonesia, Thailand, Singapore, Colombia, Sri Lanka and Saudi Arabia.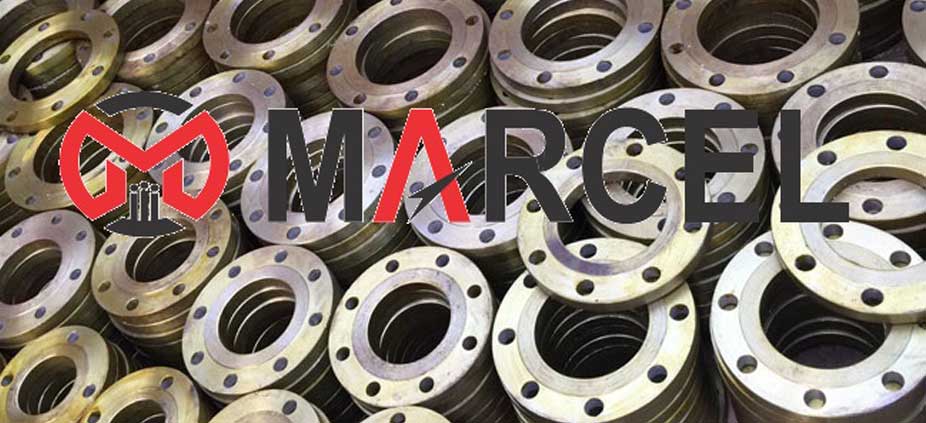 Supplier Of Plate Flange DIN, Plate Flange Manufacturers USA, Flange Plate UK, Plate Flange Weight Calculator
Plate Flange PN10, Plate Flange Material,ANSI Plate Flange Dimensions, Plate Flange Manufacturing Process,
ANSI/ASME B16.5 Plate Flange Specification
| | |
| --- | --- |
| Dimensions | ANSI B16.5, ANSI B16.47 Series A & B, MSS SP44, ASA, API-605, AWWA, Custom Drawings |
| Size | 1/2″ (15 NB) to 48″ (1200NB) |
| Class | 150 LBS, 300 LBS, 600 LBS, 900 LBS, 1500 LBS, 2500 LBS, DIN Standard ND-6,10, 16, 25, 40 Etc. |
| DIN | DIN2527, DIN2566, DIN2573, DIN2576, DIN2641, DIN2642, DIN2655, DIN2656, DIN2627, DIN2628, DIN2629, DIN 2631, DIN2632, DIN2633, DIN2634, DIN2635, DIN2636,DIN2637, DIN2638, DIN2673 |
| BS | BS4504 , BS4504, BS1560, BS10 |
| Coating/Surface Treatment | Antirust Paint, Oil Black Paint, Yellow Transparent, Zinc Plated, Cold and Hot Dip Galvanized |
| Flange Face Type | Flate Face (FF), Raised Face (RF), Ring Type Joint (RTJ) |
| Value Added Services | CNC Machining, Customised Flanges |
ANSI B16.5 Plate Flange Material Specification
Stainless Steel Plate Flanges :
ASTM A 182, A 240 F 304, 304L, 304H, 316, 316L, 316Ti, 310, 310S, 321, 321H, 317, 347, 347H, 904L
Duplex & Super Duplex Steel Plate Flanges :
ASTM / ASME A/SA 182 F 44, F 45, F51, F 53, F 55, F 60, F 61
Carbon Steel Plate Flanges :
ASTM / ASME A/SA 105 ASTM / ASME A 350 , ASTM A 181 LF 2 / A516 Gr.70 A36, A694 F42, F46, F52, F60, F65, F706
Low Temperature Carbon Steel Plate Flanges : ASTM A350, LF2, LF3
Alloy Steel Plate Flanges :
ASTM / ASME A/SA 182 & A 387 F1, F5, F9, F11, F12, F22, F91
Copper Alloy Steel Plate Flanges : ASTM SB 61 , SB62 , SB151 , SB152 UNS No. C 70600 (Cu-Ni 90/10), C 71500 (Cu-Ni 70/30), UNS No. C 10100, 10200, 10300, 10800, 12000, 12200
Nickel Alloy Plate Flanges :
ASTM SB564, SB160, SB472, SB162 Nickel 200 (UNS No. N02200), Nickel 201 (UNS No. N02201), Monel 400 (UNS No. N04400), Monel 500 (UNS No. N05500), Inconel 800 (UNS No. N08800), Inconel 825 (UNS No. N08825), Inconel 600 (UNS No. N06600), Inconel 625 (UNS No. N06625), Inconel 601 (UNS No. N06601), Hastelloy C 276 (UNS No. N10276), Alloy 20 (UNS No. N08020)
ASME B16.5 PLATE FLANGE DIMENSIONS, STAINLESS STEEL PLATE FLANGE DIMENSIONS IN MM, PLATE FLANGE SIZE
ANSI Plate Flange Dimension, ANSI B16.5 Plate Flange Dimensions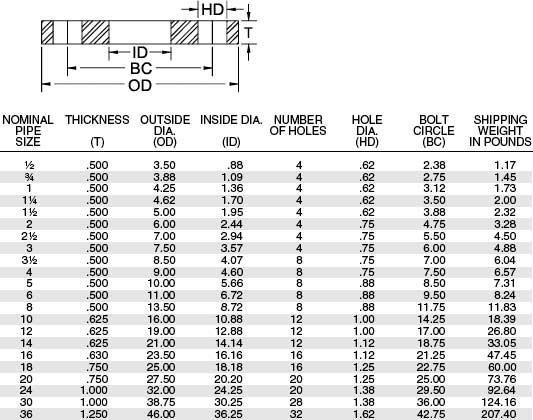 Plate Flange Class 300 Dimensions
PN16 Plate Flange Dimension
Bore
Common Dimension
Raised Face
Drilling
Approx.
Weight (Kg)
Nominal Bore
d1
D
t
K
d4
f
Number of Bolts
x
d2
DIN 2543
10

14

90
14
60
40
2
4
M12
(1/2″)
14
0.63

17.2*

15

20

95
14
65
45
2
4
M12
(1/2″)
14
0.72

21.3*

20

25

105
16
75
58
2
4
M12
(1/2″)
14
1.01

26.9*

25

30

115
16
85
68
2
4
M12
(1/2″)
14
1.23

33.7*

32

38

140
16
100
78
2
4
M16
(5/8″)
18
1.80

42.4*

40

44.5

150
16
110
88
3
4
M16
(5/8″)
18
2.09

48.3*

50

57

165
18
125
102
3
4
M16
(5/8″)
18
2.88

60.3*

65

76.1*

185
18
145
122
3
4
M16
(5/8″)
18
3.66
80

88.9

200
20
160
138
3
8
M16
(5/8″)
18
4.77
100

108

220
20
180
158
3
8
M16
(5/8″)
18
5.65

114.3*

125

133

250
22
210
188
3
8
M16
(5/8″)
18
8.42

139.7*

150

159

285
22
240
212
3
8
M20
(3/4″)
23
10.4

168.3*

200

216

340
24
295
268
3
12
M20
(3/4″)
23
16.1

219.1*

250

267

405
26
355
320
3
12
M24
(7/8″)
27
24.9

273*

300

318

460
28
410
378
4
12
M24
(7/8″)
27
35.1

323.9*

350

355.6*

520
30
470
438
4
16
M24
(7/8″)
27
47.8

368

400

406.4*

580
32
525
490
4
16
M27
(1″)
30
63.5

419

500

508*

715
36
650
610
4
20
M30
(1-1/8″)
33
102.0
JIS Plate Flange Dimensions
JIS 5K Plate Flange Dimensions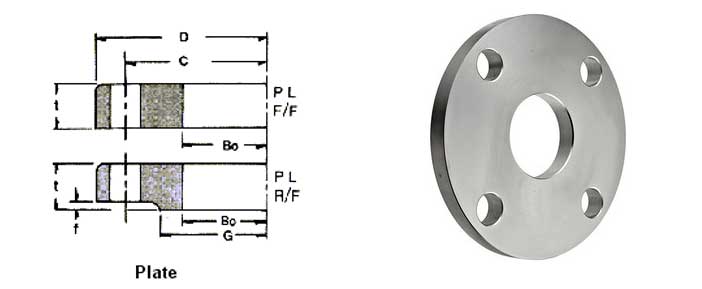 Pipe

Pipe

Bo

D

t

T

G

f

r

H

X

C

Holes

Bolt Dia.

inch

mm

3/8

10

17.3

17.8

+0.5
-0

75

+1.0
-0

9

+1.0
-0

–

±1.0

42

±0.8

1

–

–

+2.0
-0

–

+2.0
-0

55

±0.5

4

12

1/2

15

21.7

22.2

80

9

–

48

1

–

–

–

60

4

12

3/4

20

27.2

27.7

85

10

–

52

1

–

–

–

65

4

12

1

25

34.0

34.5

95

10

–

62

1

–

–

–

75

4

12

1-1/4

32

42.7

43.2

115

12

–

72

2

–

–

–

90

4

15

1-1/2

40

48.6

49.1

120

12

–

78

2

–

–

–

95

4

15

2

50

60.5

61.1

130

14

–

88

2

–

–

–

105

4

15

2-1/2

65

76.3

77.1

155

14

–

112

2

–

–

–

130

4

15

3

80

89.1

90.0

180

14

–

125

2

–

–

–

145

4

19

3-1/2

90

101.6

102.6

+1.0
-0

190

14

–

135

2

–

–

–

155

4

19

4

100

114.3

115.4

200

16

–

145

2

–

–

–

165

8

19

5

125

139.8

141.2

235

16

–

180

2

–

–

–

200

8

19

6

150

165.2

166.6

265

18

–

210

2

–

–

–

230

8

19

7

175

190.7

192.1

300

18

–

235

±0.9

2

–

–

–

260

±0.6

8

23

8

200

216.3

218.0

320

+1.5
-0

20

–

255

2

–

–

–

280

8

23

9

225

241.8

243.7

345

20

–

280

2

–

–

–

305

12

23

10

250

267.4

269.5

385

22

+1.5
-0

32

320

2

5

286

290

345

12

23

12

300

318.5

321.0

430

22

34

365

3

5

338

342

390

12

23

14

350

355.6

358.1

480

24

36

405

3

5

378

382

435

12

25

16

400

406.4

409.0

+1.5
-0

540

24

36

465

3

5

432

436

495

16

25

18

450

457.2

460.0

605

+2.0
-0

24

40

525

3

5

495

500

555

±0.8

16

25

20

500

508.0

511.0

655

24

40

575

3

5

546

552

605

20

25

22

550

558.8

562.0

720

26

42

630

3

5

597

603

665

20

27

24

600

609.6

613.0

+2.0
-0

770

26

44

680

±1.0

3

5

648

654

+2.5
-0

715

20

27

26

650

660.4

664.0

825

26

48

735

3

5

702

+2.5
-0

708

770

24

27

28

700

711.2

715.0

875

26

48

785

3

5

751

758

820

24

27

30

750

762.0

766.0

945

28

52

±1.5

840

3

5

802

810

880

24

33

32

800

812.8

817.0

+2.5
-0

995

28

52

890

3

5

854

+3.0
-0

862

+3.0
-0

930

24

33

34

850

863.6

868.0

1045

+2.5
-0

28

54

940

3

5

904

912

980

±1.0

24

33

36

900

914.4

919.0

1095

30

56

990

3

5

956

964

1030

24

33

40

1000

1016.0

1021.0

+3.0
-0

1195

32

60

1090

±1.2

3

5

1058

+3.5
-0

1066

+3.5
-0

1130

28

33

44

1100

1117.6

1123.0

1305

32

–

1200

3

–

–

–

1240

28

33

48

1200

1219.2

1224.0

1420

34

–

1305

3

–

–

–

1350

32

33

54

1350

1371.6

1377.0

1575

+3.0
-0

34

–

1460

3

–

–

–

1505

±1.5

32

33

60

1500

1524.0

1529.0

1730

36

–

1615

3

–

–

–

1660

36

33
JIS 10K Plate Flange Dimensions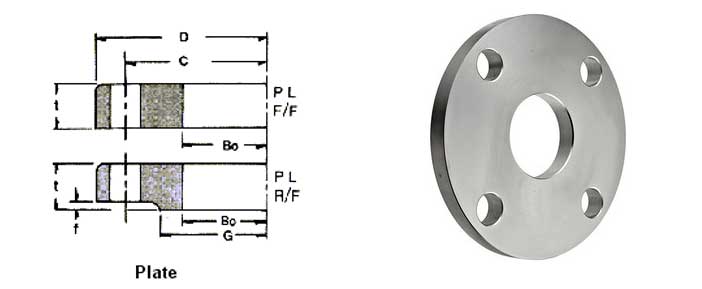 Pipe

Pipe

Bo

D

t

T

G

f

r

H

X

C

Holes

Bolt Dia.

inch

mm

3/8

10

17.3

17.8

+0.5
-0

90

+1.0
-0

12

+1.0
-0

–

±1.0

48

±0.8

1

–

–

+1.5
-0

–

+1.5
-0

65

±0.5

4

15

1/2

15

21.7

22.2

95

12

–

52

1

–

–

–

70

4

15

3/4

20

27.2

27.7

100

14

–

58

1

–

–

–

75

4

15

1

25

34.0

34.5

125

14

–

70

1

–

–

–

90

4

19

1-1/4

32

42.7

43.2

135

16

–

80

2

–

–

–

100

4

19

1-1/2

40

48.6

49.1

140

16

–

85

2

–

–

–

105

4

19

2

50

60.5

61.1

155

16

–

100

2

–

–

–

120

4

19

2-1/2

65

76.3

77.1

175

18

–

120

2

–

–

–

140

4

19

3

80

89.1

90.0

185

18

–

130

2

–

–

–

150

8

19

3-1/2

90

101.6

102.6

+1.0
-0

195

18

–

140

2

–

–

–

160

8

19

4

100

114.3

115.4

210

18

–

155

2

–

–

–

175

8

19

5

125

139.8

141.2

250

20

–

185

2

–

–

–

210

8

23

6

150

165.2

166.6

280

22

+1.5
-0

–

215

2

–

–

–

240

8

23

7

175

190.7

192.1

305

+1.5
-0

22

32

240

±0.9

2

6

208

212

265

±0.6

12

23

8

200

216.3

218.0

330

22

32

265

2

6

234

238

290

12

23

9

225

241.8

243.7

350

22

34

285

2

6

260

264

310

12

23

10

250

267.4

269.5

400

24

36

325

2

6

288

292

355

12

25

12

300

318.5

321.0

445

24

38

370

3

6

340

346

400

16

25

14

350

355.6

358.1

490

26

42

415

3

6

380

386

445

16

25

16

400

406.4

409.0

+1.5
-0

560

28

44

475

3

6

436

442

510

16

27

18

450

457.2

460.0

620

+2.0
-0

30

48

530

3

6

496

+2.0
-0

502

+2.0
-0

565

±0.8

20

27

20

500

508.0

511.0

675

30

48

585

3

6

548

554

620

20

27

22

550

558.8

562.0

745

32

52

±1.5

640

3

6

604

610

680

20

33

24

600

609.6

613.0

+2.0
-0

795

32

52

690

±1.0

3

6

656

+2.5
-0

662

+2.5
-0

730

24

33

26

650

660.4

664.0

845

34

56

740

3

6

706

712

780

24

33

28

700

711.2

715.0

905

34

58

800

3

6

762

770

840

24

33

30

750

762.0

766.0

970

36

62

855

3

6

816

824

900

24

33

32

800

812.8

817.0

+2.5
-0

1020

+2.5
-0

36

64

905

3

6

868

+3.0
-0

876

+3.0
-0

950

28

33

34

850

863.6

868.0

1070

36

66

955

3

6

920

928

1000

±1.0

28

33

36

900

914.4

919.0

1120

38

70

1005

±1.2

3

6

971

979

1050

28

33

40

1000

1016.0

1021.0

+3.0
-0

1235

40

74

1110

3

6

1073

+3.5
-0

1081

+3.5
-0

1160

28

39

44

1100

1117.6

1123.0

1345

42

78

1220

3

8

1175

1185

1270

28

39

48

1200

1219.2

1224.0

1465

44

82

1325

3

8

1278

1290

1380

±1.5

32

39

54

1350

1371.6

1377.0

1630

+3.0
-0

48

88

1480

3

8

1432

1450

1540

36

45

60

1500

1524.0

1529.0

1795

50

90

1635

3

8

1585

1600

1700

40

45
JIS 16K Plate Flange Dimensions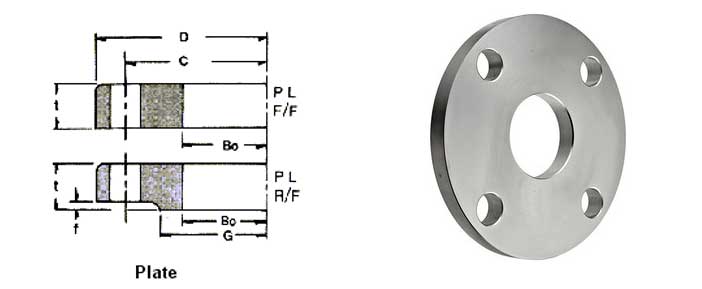 Pipe

Pipe

Bo

D

t

T

G

f

r

H

X

C

Holes

Bolt Dia.

inch

mm

3/8

10

17.3

17.8

+0.5
-0

90

+1.0
-0

12

+1.0

16

±1.0

48

±0.8

1

4

26

+1.0
-0

28

+1.0
-0

65

±0.5

4

15

1/2

15

21.7

22.2

95

12

16

52

1

4

30

32

70

4

15

3/4

20

27.2

27.7

100

14

20

58

1

4

38

42

75

4

15

1

25

34.0

34.5

125

14

20

70

1

4

46

50

90

4

19

1-1/4

32

42.7

43.2

135

16

22

80

2

5

56

60

100

4

19

1-1/2

40

48.6

49.1

140

16

24

85

2

5

62

66

105

4

19

2

50

60.5

61.1

155

16

24

100

2

5

76

80

120

8

19

2-1/2

65

76.3

77.1

175

18

26

120

2

5

94

98

140

8

19

3

80

89.1

90.0

200

20

28

135

2

6

108

112

160

8

23

3-1/2

90

101.6

102.6

+1.0
-0

210

20

30

145

2

6

120

124

170

8

23

4

100

114.3

115.4

225

22

+1.5
-0

34

160

2

6

134

138

185

8

23

5

125

139.8

141.2

270

22

34

195

2

6

164

170

225

8

25

6

150

165.2

166.6

305

+1.5
-0

24

38

230

±0.9

2

6

196

202

260

±0.6

12

25

7

175

190.7

192.1

325

26

40

250

2

6

216

222

+1.5
-0

280

12

25

8

200

216.3

218.0

350

26

40

275

2

6

244

+1.5
-0

252

305

12

25

9

225

241.8

243.7

385

26

40

325

2

6

266

272

335

12

27

10

250

267.4

269.5

430

28

44

345

2

6

304

312

380

12

27

12

300

318.5

321.0

480

30

48

395

3

8

354

364

430

16

27

14

350

355.6

358.1

540

34

52

±1.5

440

3

8

398

408

480

16

33

16

400

406.4

409.0

+1.5
-0

605

+2.0
-0

38

60

495

3

10

446

456

+2.0
-0

540

16

33

18

450

457.2

460.0

675

40

64

560

3

10

504

+2.0
-0

514

605

±0.8

20

33

20

500

508.0

511.0

730

42

68

615

3

10

558

568

660

20

33

22

550

558.8

562.0

795

44

70

670

±1.0

3

10

612

622

720

20

39

24

600

609.6

613.0

+2.0
-0

845

46

74

720

3

10

666

+2.5
-0

676

+2.5
-0

770

24

39

26

650

660.4

664.0

895

48

77

770

5

10

704

726

820

24

39

28

700

711.2

715.0

960

50

80

820

5

10

754

776

875

24

42

30

750

762.0

766.0

1020

+2.5
-0

52

+2.0
-0

83

880

5

10

806

832

935

24

42

32

800

812.8

817.0

+2.5
-0

1085

54

86

930

5

10

865

+3.0
-0

885

+3.0
-0

990

±1.0

24

48

34

850

863.6

868.0

1135

56

89

980

5

10

916

936

1040

24

48

36

900

914.4

919.0

1185

58

93

1030

±1.2

5

10

968

986

1090

28

48

40

1000

1016.0

1021.0

+3.0
-0

1320

62

99

1140

5

12

1070

+3.5
-0

1098

+3.5
-0

1210

28

56

44

1100

1117.6

1123.0

1420

66

105

±2.0

1240

5

12

1180

1200

1310

32

56

48

1200

1219.2

1225.0

1530

+3.0
-0

70

112

1350

5

12

1282

1302

1420

±1.5

32

56

52

1300

1320.8

1326.0

1645

74

–

1450

5

–

–

–

1530

32

62

54

1350

1371.6

1377.0

1700

76

–

1510

5

–

–

–

1590

32

62

56

1400

1422.4

1428.0

1755

78

–

1560

5

–

–

–

1640

36

62

60

1500

1524.0

1529.0

1865

80

–

1670

5

–

–

–

1750

36

62
JIS 20K Plate Flange Dimensions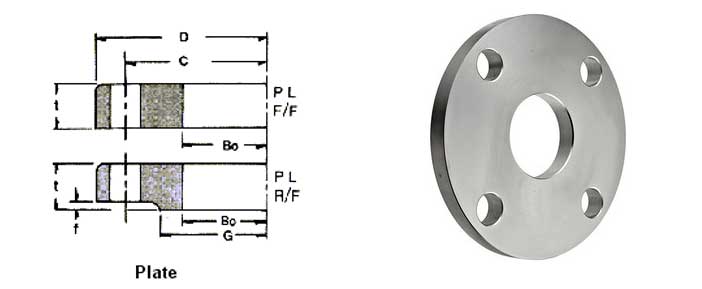 Pipe

Pipe

Bo

D

t

T

G

f

r

H

X

C

Holes

Bolt Dia.

inch

mm

3/8

10

17.3

17.8

+0.5
-0

90

+1.0
-0

14

+1.0

20

±1.0

48

±0.8

1

4

30

+1.0
-0

32

+1.0
-0

65

±0.5

4

15

1/2

15

21.7

22.2

95

14

20

52

1

4

34

36

70

4

15

3/4

20

27.2

27.7

100

16

22

58

1

4

40

42

75

4

15

1

25

34.0

34.5

125

16

24

70

1

4

48

50

90

4

19

1-1/4

32

42.7

43.2

135

18

26

80

2

5

56

60

100

4

19

1-1/2

40

48.6

49.1

140

18

26

85

2

5

62

66

105

4

19

2

50

60.5

61.1

155

18

26

100

2

5

76

80

120

8

19

2-1/2

65

76.3

77.1

175

20

30

120

2

5

100

104

140

8

19

3

80

89.1

90.0

200

22

+1.5
-0

34

135

2

6

113

117

160

8

23

3-1/2

90

101.6

102.6

+1.0
-0

210

24

36

145

2

6

126

130

170

8

23

4

100

114.3

115.4

225

24

36

160

2

6

138

142

185

8

23

5

125

139.8

141.2

270

26

40

195

2

6

166

172

225

8

25

6

150

165.2

166.6

305

+1.5
-0

28

42

230

±0.9

2

6

196

202

260

±0.6

12

25

7

175

190.7

192.1

325

30

46

250

2

6

218

226

+1.5
-0

280

12

25

8

200

216.3

218.0

350

30

46

275

2

6

244

+1.5
-0

252

305

12

25

9

225

241.8

243.7

385

32

48

300

2

6

266

274

335

12

27

10

250

267.4

269.5

430

34

52

±1.5

345

2

6

304

312

380

12

27

12

300

318.5

321.0

480

36

56

395

3

8

354

364

430

16

27

14

350

355.6

358.1

540

40

62

440

3

8

398

408

480

16

33

16

400

406.4

409.0

+1.5
-0

605

+2.0
-0

46

70

495

3

10

446

456

+2.0
-0

540

16

33

18

450

457.2

460.0

675

48

78

560

3

10

504

+2.0
-0

514

605

±0.8

20

33

20

500

508.0

511.0

730

50

84

615

3

10

558

568

660

20

33

22

550

558.8

562.0

795

52

+2.0
-0

90

670

±1.0

3

10

612

622

720

20

39

24

600

609.6

613.0

+2.0
-0

845

54

96

720

3

10

666

+2.5
-0

676

+2.5
-0

770

24

39

26

650

660.4

664.0

945

60

–

790

5

–

–

–

850

24

48

28

700

711.2

715.0

995

64

–

840

5

–

–

–

900

24

48

30

750

762.0

766.0

1080

+2.5
-0

68

–

900

5

–

–

–

970

±1.0

24

56

32

800

812.8

817.0

+2.5
-0

1140

72

–

960

5

–

–

–

1030

24

56

34

850

863.6

868.0

1200

74

–

1020

±1.2

5

–

–

–

1090

24

56

36

900

914.4

919.0

1250

76

–

1070

5

–

–

–

1140

28

56
Plate Flange Weight
Nominal Pipe Size
Diameter of Pipe
Flange Dimension
Nuts & Bolts
Approx. Flange Weight
Flange I.D
Flange Dia
Thk of Flange
Dia of Bolt Circle
No. of Holes
Dia of Bolt Holes
DN
ISO
DIN
d5
D
b
k
d2
KG /PCS
10
–
14
14.5
90
14
60
4
14
0.61
17.2
–
17.7
90
14
60
4
14
0.6
15
–
20
21
95
14
65
4
14
0.67
21.3
–
22
95
14
65
4
14
0.67
20
–
25
26
105
16
75
4
14
0.94
26.9
–
27.6
105
16
75
4
14
0.94
25
–
30
31
115
16
85
4
14
1.13
33.7
–
34.4
115
16
85
4
14
1.11
32
–
38
39
140
16
100
4
18
1.66
42.4
–
43.1
140
16
100
4
18
1.62
40
–
44.5
45.5
150
16
110
4
18
1.89
48.3
–
49
150
16
110
4
18
1.85
50
–
57
58.1
165
18
125
4
18
2.5
60.3
–
61.1
165
18
125
4
18
2.46
65
76.1
–
77.1
185
18
145
4
18
2.99
80
88.9
–
90.3
200
20
160
8
18
3.61
100
–
108
109.6
220
20
180
8
18
4.17
114.3
–
115.9
220
20
180
8
18
3.99
125
–
133
134.8
250
22
210
8
18
5.66
139.7
–
141.6
250
22
210
8
18
5.41
150
–
159
161.1
285
22
240
8
22
6.97
168.3
–
170.5
285
22
240
8
22
6.55
175
193.7
–
196.1
315
24
270
8
22
8.42
200
219.1
–
221.8
340
24
295
8
22
9.28
250
–
267
270.2
395
26
350
12
22
12.36
273
–
276.2
395
26
350
12
22
11.85
300
323.9
–
327.6
445
26
400
12
22
13.61
350
355.6
–
359.7
505
28
460
16
22
20.35
–
368
372.2
505
28
460
16
22
18.77
400
406.4
–
411
565
32
515
18
26
27.52
–
419
423.7
565
32
515
18
26
35.43
450
457
–
462.3
615
38
565
20
26
35.11
500
508
–
613.6
670
38
620
20
26
40.2
600
610
–
615.5
780
40
725
20
26
51.87
Plate Flange Pressure Ratings
Flanges pressure rating in psig for Plate Flange ASME

Temperature (F°)
150#
300#
400#
600#
900#
1500#
2500#
-20 to 100
285
740
985
1480
2220
3705
6170
200
260
680
905
1360
2035
3395
5655
300
230
655
870
1310
1965
3270
5450
400
200
635
845
1265
1900
3170
5280
500
170
605
805
1205
1810
3015
5025
600
140
570
755
1135
1705
2840
4730
650
125
550
730
1100
1650
2745
4575
700
110
530
710
1060
1590
2655
4425
750
95
505
675
1015
1520
2535
4230
800
80
410
550
825
1235
2055
3430
850
65
320
425
640
955
1595
2655
900
50
230
305
460
690
1150
1915
950
35
135
185
275
410
685
1145
1000
20
85
115
170
255
430
715
Types of Plate Flanges
| | |
| --- | --- |
| Stainless Steel Plate Flange | Stainless Steel Plate Flange Dimensions |
| ANSI B16.5 Plate Flanges | Plate Flange Dimensions |
| Plate Raised Face Flange | Raised Faced Plate Flanges |
| ASME B16.5 Plate Flanges | ANSI B16.5 Class 150 Plate Flanges |
| ASME B16.47 Plate Flange | JIS Plate flange |
| Plate Flange Flat Face | ASME B16.47 Series A and B Plate Flanges Exporter |
| ANSI B16.5 class 150 Plate Flange | ANSI 150 Plate Flange |
| Plate Flange Class 300 | High Quality Plate Flange Class 1500 |
| Plate Flange Class 600 | JIS Plate Flange |
| \Plate Flange Class 900 | Plate Flanges EN 1092-1 |
| Plate flange High Temperature | Flat Faced Plate Flanges |
| Plate Flange PN6 | Plate Flange PN10 |
| Stainless Steel Slip On Plate Flange | Carbon steel Plate flanges |
| Plate Flange PN16 | Plate Flanges ANSI |
ASME B16.5 Plate Flange Price List
Plate Flange Price: $15.45 / each
ANSI B16.5 Plate Flange Price: $20.14 / each
ASME B16.47 Plate Flange Price: $18.35 / each
ASME/ANSI B16.47 Plate Flange Supplying to Following Regions & Countries:
AFRICA
Nigeria
Algeria
Angola
Tanzania
Libya
Egypt
Sudan
Equatorial Guinea
The Republic Of Congo
Gabon
NORTH AMERICA
Usa
Canada
Mexico
Costa Rica
Trinidad And Tobago
Jamaica
Denmark
MIDDLE EAST ASIA
Saudi Arabia
Iran
Iraq
Uae
Qatar
Bahrain
Oman
Kuwait
Turkey
Jordan
SOUTH AMERICA
Argentina
Bolivia
Brazil
Chile
Venezuela
Colombia
Ecuador
Guyana
Paraguay
Uruguay
EUROPE
Norway
Germany
France
Italy
Uk
Spain
Netherland
Belgium
Greece
Czech Republic
Portugal
Hungary
SOUTH AFRICA
ASIA
India
Singapore
Malaysia
Indonesia
Thailand
Vietnam
South Korea
Japan
Sri Lanka
Maldives
Bangladesh
Mayanmar
Taiwan
Cambodia